There are only 3 ways to gain permanent residency in the United States:
becoming a green card holder 
gain political asylum within the United States
qualifying for refugee states 
The most common of the three permanent immigration options are green cards. 14 million people in the United States are green card holders, making up almost 4% of the United States population.
More than 800,000 foreign nationals apply for green cards each year, and almost 12% of those people are rejected after wasting an average of 2 years of time spent dealing with the U.S. Citizenship and Immigration Services and the immigration court system. That can mean years of wasted time and thousands of dollars gone with no progress. 
If you're serious about taking the next step to improve your immigration status hiring an experienced New York City green card lawyer who is trained in and specializes in immigration law can save you months or years of worry and stress, and thousands of dollars in wasted money.
Immigration attorneys work within this court system on a daily basis and know the immigration process better than anyone else. The green card process can be intimidating, but with an immigration lawyer, like Jason A. Dennis, on your side, your entire journey to gaining permanent residence will be as quick and easy as possible. 
Where to Start the Green Card Process 
Your first step should be making sure you meet the requirements for a green card application. These requirements change depending on your circumstances. The process for applying for a green card after marriage is different than applying for a green card for work, or as an independently wealthy person who wishes to change their permanent residence to the United States. 
Because of complex immigration law, these requirements are extremely important. Filing incorrect or providing the wrong proof can be seen as an attempt to commit immigration fraud, can extend your processing time by months or even years. Incorrectly filed papers can see you facing deportation proceedings from an expired visa or any other number of issues. Having an experienced immigration attorney at your side during your journey can help change the quality of immigration experiences you have. 
You should also have all of the required proof and paperwork ready when beginning your immigration process. This can vary depending on your personal requirements but can range anywhere from birth certificates and marriage certificates to proof of an awaiting job, a place you are planning on living, and the financial documentation required to show you will be able to support yourself during your time living in the United States.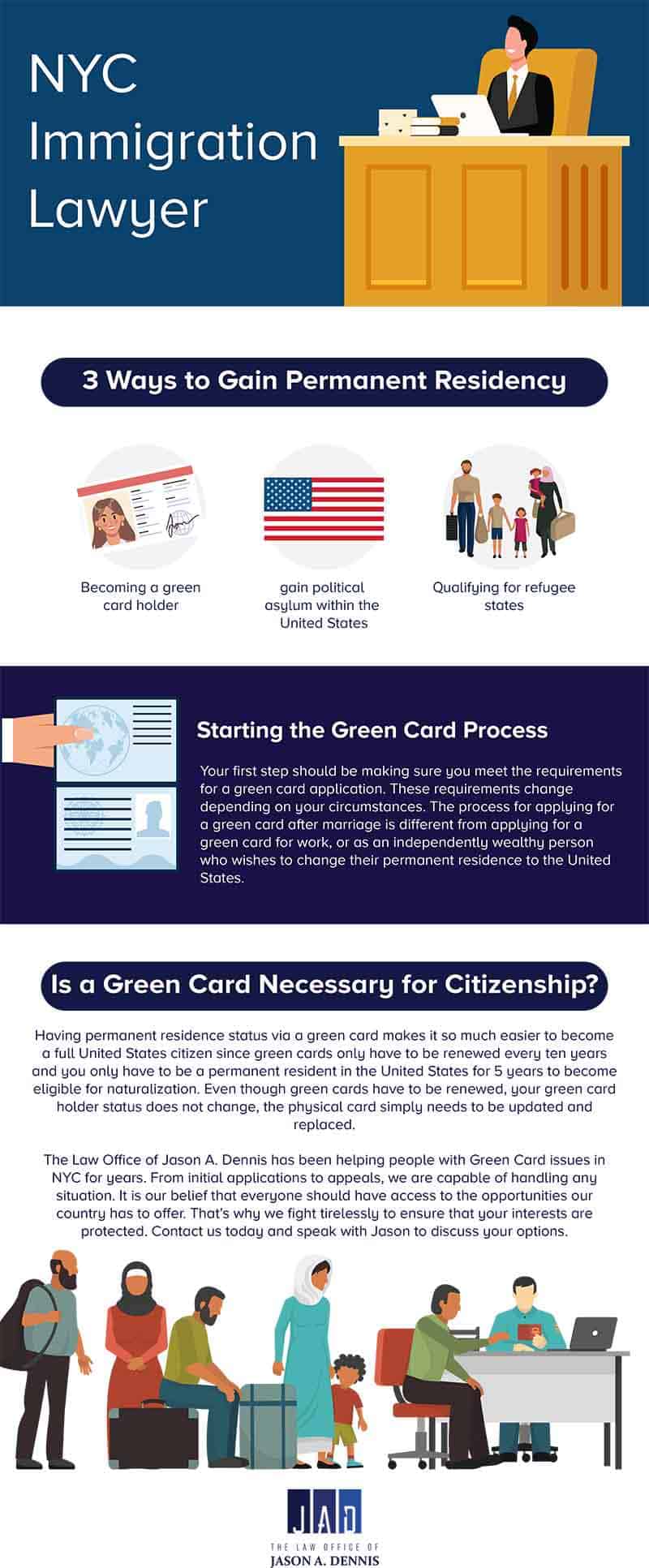 Filing an Appeal 
You may have already started your process of becoming a permanent resident in the United States, and something went wrong. Whether you simply submitted the wrong evidence and paperwork, or you misrepresented your eligibility, the immigration system can quickly turn against you If you need help filing an appeal, or fighting against removal proceedings, your first step should be to find an experienced immigration attorney to look over your case and get you back on the right track. Immigration authorities are harsh and immigration forms are complicated. Even the tiniest mistakes can affect your immigration benefits and status. 
Whether your immigrant visa expired during your process, or a criminal record caused a rejection, or any other manner of issues, an experienced immigration law firm in New York City can pick up your case at any point and try to repair any damage already done. In all cases, they can make sure that proceedings don't get worse once they are working on your case. 
Do I Need a Green Card to File a Citizenship Application?
While there are two workarounds, including marriage and joining the military, that make the wait shorter, for most cases you have to be a permanent resident of the United States for at least 5 years prior to applying for naturalization and citizenship. Many visas do not last that long, while green cards are permanent, and would expire during the time you would need to stay for the naturalization process. That is why many people apply for green cards before ever starting their path to naturalization. 
Having permanent residence status via a green card makes it so much easier to become a full United States citizen since green cards only have to be renewed every ten years and you only have to be a permanent resident in the United States for 5 years to become eligible for naturalization. Even though green cards have to be renewed, your green card holder status does not change, the physical card simply needs to be updated and replaced.
Once you become a green card holder you are a permanent resident of the United States, unless updates to your criminal record or other issues find you having your eligibility and green card holder status revoked by the United States. 
Its Time to Get Started 
No matter your personal situation or current visa or residency status, there is no time like the present to get started on your application process for a green card. During your initial consultation, an experienced immigration attorney in New York at the Law Offices of Jason A. Dennis will help you decide on your approach to immigration to the United States, including any immigration waivers you may qualify for, whether or not you meet the qualifications for booming a green card holder, or any other questions you may have. 
At the Law Offices of Jason A. Dennis, our priority is helping immigration clients meet their goals within budget, and on time, with no unnecessary delays. This includes helping you file your immigration forms, explaining what immigration benefits you are applying for, and even helping you deal with any criminal history that may be stopping your applications for permanent residency get approved.
No matter what point you are in the application for immigration benefits, Jason A. Dennis has the knowledge of the immigration field and drive to succeed to bring your dealings with Homeland Security and the immigration system to a quick and easy finish.