The Law Office of Jason A. Dennis is an immigration-based law firm focused on employment, family, and artist immigration, among other complex matters, including petitions, deportation defense, and waivers. For years, our New York City family immigration lawyers have successfully provided legal assistance to countless clients with their citizenship applications.
Our team has handled many immigration cases before the Board of Immigration Appeals, the Executive Office for Immigration Review, United States Citizenship and Immigration Services, the Department of Homeland Security, Immigration and Customs Enforcement, and at United States Consulates throughout the world.
Our experienced immigration attorneys believe in using the law to fight for our client's legal rights. Our legal strategy for each case is to gather the strongest evidence and present it with the best arguments.
We have successfully resolved a wide range of family immigration matters. If you need top-notch legal services, contact The Law Office of Jason A. Dennis today at 516-494-7373 for a no-cost initial consultation.
Family Members You Can Sponsor For Immigration
The eligibility for family-sponsored immigrants is divided into four preferences and a separate group known as "immediate relatives."
Immediate relatives, such as spouses and minor children of United States citizens and parents of adult United States citizens, are the most favored of all family-based immigrants. Unlike the preference groups, immediate relatives aren't subject to numerical limits. Thus, petitions for immediate relatives are processed more quickly than other family-based categories.
Relatives who aren't "immediate relatives" of U.S. citizens can still immigrate to the U.S. if they fall into any of the following family-based preferences:
Unmarried, adult daughters and sons of United States citizens,
Spouses of law-abiding permanent residents, their unmarried adult daughters and sons, and unmarried children (under the age of 21) of permanent residents,
Married daughters and sons of U.S. citizens,
The family-based preferences are subject to numerical limitations. This means that an individual who falls into one of the family-based preference categories might still have to wait for many years to get their legal permanent resident status. Thus, simply filing or the approval of a Petition within one of the family-based preference categories doesn't permit one to work and live legally in the U.S.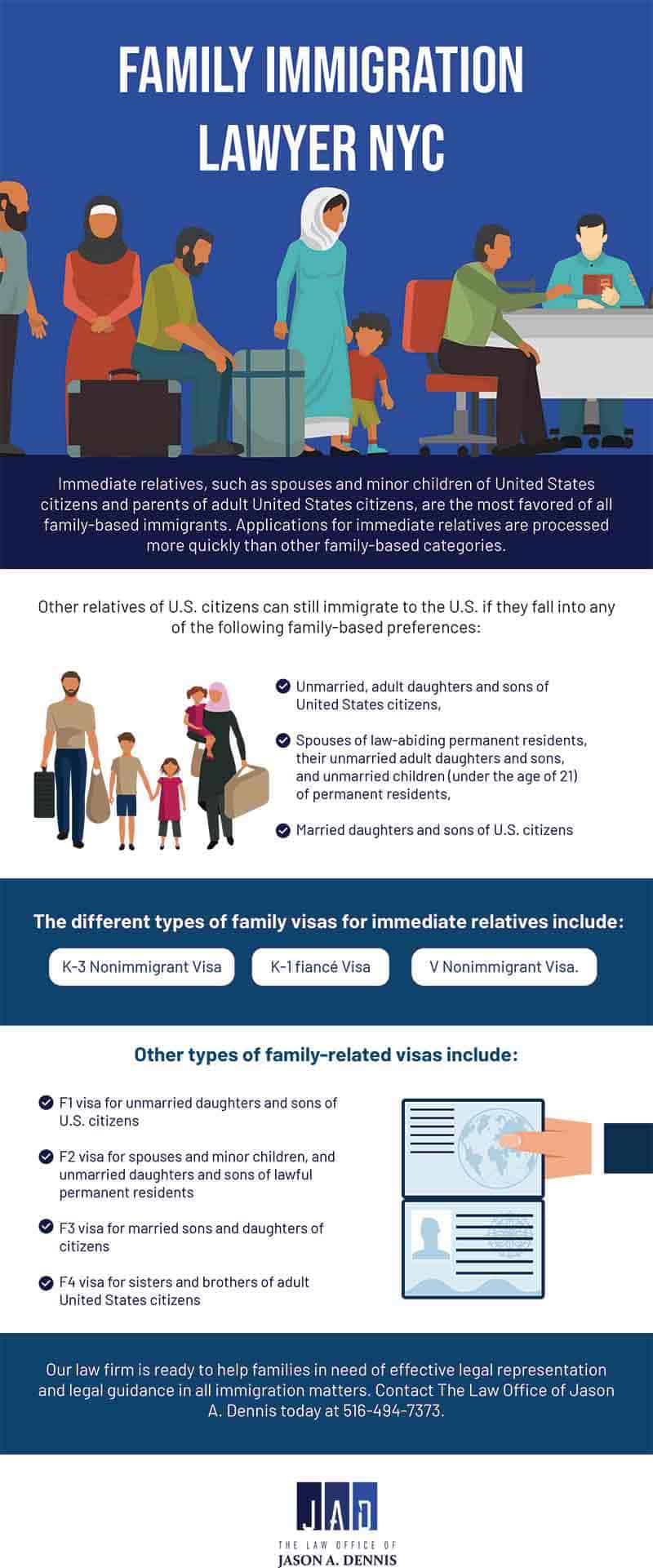 What are the Different Types of Family-Based Visas?
A family-based immigrant visa is for persons who are related to a U.S. citizen or lawful permanent residents. They must be an immediate family member, including a spouse or parent or minor child who is under the age of 21 of a U.S. citizen.
The family visas for immediate relatives include:
Other family members visas include:
F1 visa for unmarried daughters and sons of U.S. citizens
F2 visa for spouses and minor children, and unmarried daughters and sons of lawful permanent residents
F3 visa for married sons and daughters of citizens
F4 visa for sisters and brothers of adult United States citizens
Related: U.S. Visa Types and Requirements
If you wish to bring a loved one to the US, our experienced attorneys can guide you through what to expect during the family-based immigration legal process and what evidence you need to be prepared. Our legal team represents individuals and families throughout NYC and around the world, and we would be happy to help you, too.
What Can Our Experienced Immigration Lawyer Do for You?
A lot of what our defense team does for our family-based immigration clients involves maintenance of status, adjustment of status, achieving entry, and finding the most effective ways to meet their immediate or ongoing immigration objectives. Sometimes the best way to achieve your American dream may require extra work later on; for instance, when a non-citizen spouse enters the US on a nonimmigrant K-3 visa.
Eventually, it's up to you and your loved one to decide how you'd like to proceed, but our experienced New York immigration lawyers will always arm you with all the information you need to know concerning the legal options available to you, so you can make an educated decision.
We are dedicated to helping United States citizens and permanent residents bring their relatives to this country. We handle the following family immigration cases:
Family-based waivers of inadmissibility
Removal defense
Adjustment of status
Citizenship application and naturalization
Fiancé or fiancée visas
Nonimmigrant K-3 visas
Consular processing
Permanent residence or green card application for the closest relatives
Preferences categories for family-based immigration visas
Entry and permanent residence for non-citizen spouses
Each of these instances requires a different approach and course of legal action. Thus, we take the time to explain each legal process carefully so you know what to expect in the future: priority dates, length of time, evidence and documentation requirements, interview process, visa bulletins, and the affidavits of support that non-citizen relatives must fill.
You can rely on our New York City family immigration attorneys to offer timely and straightforward answers to your questions while giving you the information you need to make educated decisions about your family.
Contact Our Experienced NYC Deportation Attorneys Today for Legal Avice!
Our law firm is ready to help families, individuals, and business owners in need of effective legal representation and legal guidance in all immigration matters. We have helped thousands of individuals avoid waive bars of admissibility, deportation, get necessary visas, and guided clients through the legal process of becoming lawful permanent residents and even more become American citizens via naturalization. If you're looking for an effective immigration lawyer in NYC, contact The Law Office of Jason A. Dennis today at 516-494-7373.